Urban Defense Institute...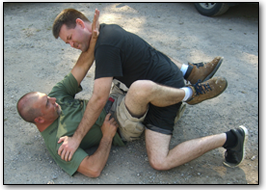 We are living in uncertain times, the economy is struggling, unemployment is on the rise and people are starting to get desperate. Due to the struggling economy, police are being layed off and prisons are being closed with the tenants being released onto the streets due to a lack of room to house them. With the combination of rising costs, falling employment, decreasing police presence and rising violence in society, how are you going to keep your family safe?
That is where Urban Defense Institute comes in. We have designed a course meant to help you navigate the treacherous waters of personal, family and home defense. We take you through aspects of urban defense that most self-defense programs forget about: emotional and psychological aspects of fighting; how to win a real street fight or bar fight; how to beat a grappler; firearms for personal, family and home defense; and other aspects of urban survival you will be faced with.

2014 NRA Annual Meetings and Exhibits
If you are going to be at the
2014 NRA Annual Meetings and Exhibits Show
this weekend (April 25 – 27) in Indianapolis Indiana, make sure to stop by the TOPS Knives booth #4030 and meet
TOPS Knives
Designers and
Survival Quarterly Magazine
staff: Staff Editor Waysun "Johnny" Tsai of
C.U.M.A. Survival School
and Associate Editor/Art Director Joshua Swanagon of Urban Defense Institute. Stop by and say hi and take a look at the great line of knives TOPS will have on hand, including Johnny and Joshua's knives. See you at the show.
TOPS BACKWOODS SKINNER
Design by Joshua Swanagon
Is now available. My new knife the Backwoods Skinner is now available through TOPS Knives. I am stoked with how it came out and I think you will be pleased as well.
The gut hook goes into the butt of the grip for transport. The way it works for using the gut hook is really cool, more on that later.
The knife is a 1095 high carbon steel with a desert tan powder coat for easier cleaning and nicer lines. The scales are a canvas micarta for ultimate comfort. The angle of the blade from the grip allows for a comfortable grip with a natural break to the wrist. And for finer skinning you can run your index finger down the spine of the blade and grip the blade between your thumb and middle finger.
Now available, visit TOPS Knives website to purchase.


$30/month
Drop ins $10

20% discount for LE, military, first responders and immediate family.