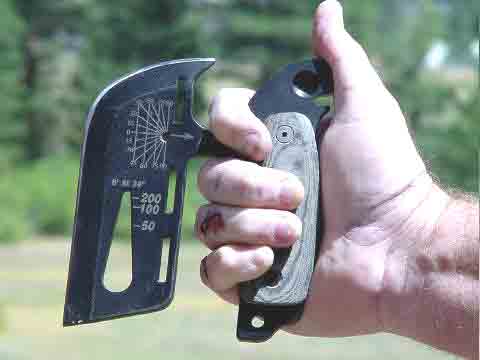 The  ATAX "the All Terrain Ax"  is an outstanding Wilderness survival, Urban survival and combatives tool. What is the ATAX? Well it's a Knife, a skinner, a wire cutter, a range finder, a compass, an inclinometer,  a clock, a wrench, a hammer, a rescue tool, a survival kit holder, a fire bow bearing, an arrow launcher and a field level and of course by binding a split stick to it well, you've created an AX hence the AX in ATAX. Shew! that's  a lot of stuff. You can visit Survival.com  to  see images showing in detail all of the ATAX's uses.  
There is a video available when you purchase  the ATAX showing how to use it. The ATAX carries  very easily and doesn't get in the way like a large knife might. The specs are  LOA : 5.5 inches, width 4.5 inches it is 1/4 inches thick and is made of 1095 steel ( total steel ) and weighs 16 oz. The handle is Linen Micarta  and it comes with a reversible Kydex sheath for left or right use.
The ATAX created by Ron Hood is a great Wilderness and Urban survival tool, but can also be used for combatives. This is  a great tool for Military, Firefighting and other hardcore professionals, or the survival enthusiast. The Urban Defense Institute in cooperation with Karen Hood and Survival.com  is currently working on a combat curriculum for the ATAX.
The ATAX is available through Tops Knives.com
Keep it real and stay safe.