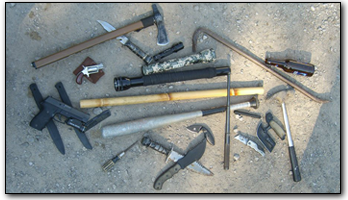 The Urban Defense Institute program is not your typical self-defense seminar. We have built a program that is reality based and takes into account what you will really be dealing with on a day to day basis, while taking into account things that we all hope we never have to deal with but may have to someday.
Our classes, seminars and workshops include a variety of topics to help you deal with many of the situations you may find yourself having to deal with on a day to day basis in an every increasing volatile society. Urban Defense Institute offers instruction on:
Urban Survival
Reality Based Street Defense
Women's Self-Defense
Survival Mindset
Situational Awareness
Firearms training
Impact and Edged Weapons
Pain Compliance
Control Tactics
Privates will be available
Regular Workshops open to non-members
Law Enforcement and Security defensive tactics
This is not the typical self-defense or martial arts school. Our methods are for people who are serious about their own safety and/or that of their family and who want to know what it really takes to survive a violent attack on the street, in a bar or home invasion.
You can tell from the videos on our media page that the only thing that all fights have in common is chaos, we cannot tell you everything you will ever encounter. Which is why our system is principal based and is meant to give you access to tools that will allow you to flow with a hostile situation.
The Urban Defense Institute program is perfect for anybody of any skill level: no experience; skilled fighters and martial artists; Police and Military personnel; anybody (although it is not for children, we discuss topics that kids are not ready for). We also offer discounts for Police and Military personnel.
If you are interested in setting up a seminar for your group or school, or are interested in attending a scheduled seminar or workshop, please contact us and we will get back with you soon. If you would like to enroll for our weekly classes, please feel free to enroll here.
Keep it real and Stay safe.