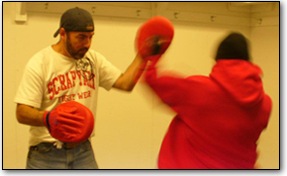 The purpose and intent of UDI is to teach a very simple yet effective means of reality based defense that is intended to be effective on it's own right out of the box, or compliment the toolbox of experienced fighters and martial artists by adding a very effective base to the current arsenal. The UDI system is not a martial art in the traditional sense and is therefore easy to learn quickly and immediately implement, although experienced martial artists will see rudimentary martial arts in the foundation of some of our techniques.
Fighting is a mental game that involves brutality, most fights are won or lost before the first blow is dealt. It is our purpose to help you gain that mental edge that you will need to take control of any adverse situation life may throw at you, this can even go beyond fighting. We also spend time discussing how to de-escalate a tense situation without it having to go to violence, the best fight is the one that doesn't happen.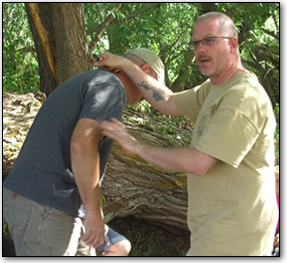 Although we make it a point to indicate that our system is not a martial art, and we developed a system that is far different from the tenants of traditional martial arts, does not mean that we are against martial arts or do not suggest them to people. Being martial artists and martial arts instructors ourselves, we have a deep love and passion for them, but we also know that they are a life long endeavor and take many years before they will even be effective for you (if ever, street fights don't happen anything like they do in the dojo, you may be surprised. Check out the video page to see what we are talking about). We recommend learning a solid, reality based self-defense system that will work for you now, and then add to it with further martial arts training to add more to your toolbox. The UDI system will be your meat and potatoes, and the rest is just gravy.